To become a college bookie, one needs to understand both how sports betting works, and how college football works. The sheer number of games in a season can be confusing, but all the chaos will soon simmer down into the semifinals. And this season, we are going to see Louisiana State, Ohio State, Clemson, and Oklahoma. These four teams will be competing for a national title in the college football playoffs in the days to come.
The selection was announced after a deliberation from a committee of 13 members, and of course, the result of the conference championship games. And what does this mean for pay per head bookies? Basically, college football action will be more exciting than ever with three undefeated teams in another straight year.
College Football Playoffs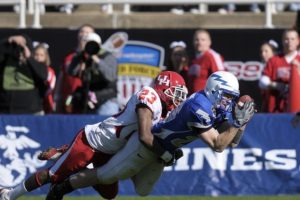 Sunday's results gave Louisiana State the lead over Ohio State. Louisiana will play against No. 4, Oklahoma on December 28 in Atlanta at the Peach Bowl. Next after this, No. 2 Ohio will play against No. 3 Clemson in the Fiesta Bowl in Phoenix. Whoever wins both games will move forward to the National Championship game. The championship game will not be until after New Year's, to be held on January 13 in New Orleans.
With a lag time over the holiday season, this is the perfect opportunity to work on getting futures wagers before the semis and the championship games. And these games will prove to be something you need to keep track of.
Statistically, all of the teams are great on the offensive end, ranking in the top 5 in the country. Both Oklahoma and LSU average around 554 yards per game. As for defense, Clemson has allowed only 10.6 points per game, the best in the league, with Ohio permitting 12.5, tied second in the country. If you still haven't started taking in betting action, check this How Do I Become a Bookie guide and get started before the season wraps up.