The NBA restarted its season last July 30. A lot of sports bettors were eager to place their wagers, as the last NBA games were way back in March. Pay Per Head sportsbook operators were on the lookout for any announcement on the league, as many were hopeful that the NBA will do everything they can to ensure that the season continues. And the smartest solution they have come up with, is for the league to stay in a bubble for the duration of the season. Let's find out how the bubble works for the NBA.
How the Bubble Works for the NBA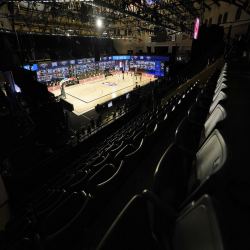 Its exactly as what you think it is: the league will be living under a bubble, at the ESPN complex in Florida. All 22 teams flew in safely, went straight to the complex, and got settled. It will, after all, be their home for the next few months. And as outlandish as it sounds, they seem to be doing better than the MLB. The MLB is not using a bubble system, and their players are already getting sick.
Of course, the jury's out if the NBA players will still manage to get Covid, although security measures will be in place. They will not be allowed to leave the premises, and they will be given amenities they can use- provided they take the proper safety precautions.
The Difference of this Season
Of course, the most noticeable thing that is missing is the live audience. If you are learning how to become a bookie, then you know that having fans in your home court is a good advantage. However, none of those two will be applicable this season. What effect will this have on players? That's for everyone to see.
And as for those who are keen to earn money on sports betting, the best and most affordable option you have is to go for pay per head services to help you with your sportsbook. Not only are they affordable, but they also give you the best software to help you manage your books efficiently.