It seems like the Tokyo Olympics will be pushing through, finally. And with that, are more announcements on teams and athletes who will be representing their countries in their respective sports. And, our fresh baseball news update, is the roster for Team USA Baseball for the upcoming Tokyo Olympics.
The final roster for Team USA baseball is made up of 24 players. The team will be facing Israel in their first game in the Olympics. The team aims to earn the country's first goal medal since 2000. Of course, as most of you into baseball betting know, we are in the middle of the MLB season, so this affects who will be able to get away from league duties and travel to Tokyo. Since the pandemic is still ongoing, there are concerns about player safety, so there are a lot of countries and teams who have had to rearrange their rosters from player changes.
Team USA Baseball Roster
While the roster will be absent of some of the active big league players, Team USA has a perfect mix of veteran players, as well as younger players. Out of the 24, 14 players have MLB experience. In fact, you have Edwin Jackson, one of the best journeymen in the league, playing for team USA. Aside from reading bookie tutorials on baseball betting, keep track of the players who are part of this roster. Remember that any change in the lineup, any player injury or the like, can affect the outcome of a game.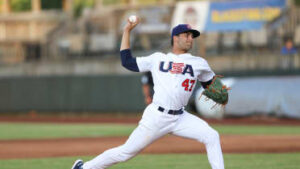 Catchers
    Tim Federowicz (Dodgers)
    Mark Kolozsvary (Reds)
Pitchers
    Shane Baz (Rays)
    Anthony Carter
    Brandon Dickson (Cardinals)
    Anthony Gose (Cleveland)
    Edwin Jackson
    Scott Kazmir (Giants)
    Nick Martinez
    Scott McGough
    David Robertson
    Joe Ryan (Rays)
    Ryder Ryan (Rangers)
    Simeon Woods-Richardson (Blue Jays)
Infielders
    Nick Allen (Athletics)
    Eddy Alvarez (Marlins)
    Triston Casas (Red Sox)
    Jamie Westbrook (Brewers)
    Todd Frazier
Outfielders
    Tyler Austin
    Eric Filia (Mariners)
    Patrick Kivlehan (Padres)
    Jack Lopez (Red Sox)
    Bubba Starling (Royals)